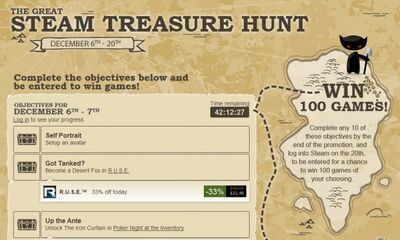 The Great Steam Treasure Hunt was an event on Steam that started on the 6th December 2010 and ended on the 20th December 2010.
A total of 28 objectives were included in the event. 10 entries plus logging in on the 20th entered you into a draw to win 100 games, which 3 people won.
A daily drawing was also held, where 20 winners won the top 5 games in their wishlist every 2 days, to qualify you had to have at least one of the current objectives, and at least 10 games on your wishlist.
Also, 3 Team Fortress 2 hats were given to people that got a certain number of objectives.
Ad blocker interference detected!
Wikia is a free-to-use site that makes money from advertising. We have a modified experience for viewers using ad blockers

Wikia is not accessible if you've made further modifications. Remove the custom ad blocker rule(s) and the page will load as expected.